U17 Hockey Challenge
Hosted by Dawson Creek and Fort St. John
Excitement is building in B.C. as the World Under-17 Hockey Challenge returns to Dawson Creek and Fort St. John for the second time in three years. This year's edition of Canada's premiere showcase of the best 16-year-old players is Nov. 5-11, 2017, at the Encana Events Centre in Dawson Creek and the North Peace Arena in Fort St. John.
In partnership with the Canadian Hockey League, BC Hockey, and Hockey Canada, the 22-game schedule was released today. Team Canada Black, Team Canada Red, and Team Canada White will be joined by players from the Czech Republic, Finland, Russia, Sweden, and the United States.
"I cannot express the excitement that surrounds this upcoming event being hosted once again in our region," said Dawson Creek Mayor Dale Bumstead. "We were so fortunate to be able to host this event once, but to be able to host it a second time is truly remarkable. The intricate network of people, from volunteers to sponsors to fans that help make this event a reality is amazing."
Last year's silver-medallists, Team Canada Black, will open the tournament Nov. 5 at the Encana Events Centre at 2:30 p.m. PT (5:30 p.m. ET) when they play Team Canada White. Sweden, last year's gold-medallists, will wrap up opening day against Russia in Fort St. John. On Nov. 11, the bronze-medal game will be played at 2:30 p.m. PT (5:30 p.m. ET), followed by the gold-medal game at 7 p.m. PT (10 p.m. ET). TSN and RDS, the official broadcasters for Hockey Canada will carry select games including the gold-medal game; exact broadcast details will be available closer to the event.
"Dawson Creek and Fort St. John put on a world-class event just two years ago and we know the community will support these young hockey players, their team staff, and this event once again," said Jeff Beck, senior manager of events and properties with Hockey Canada.
Fans can take in all of the action for the best value by purchasing a full-event ticket package at HockeyCanada.ca/WU17 and TigerBoxOfficePlus.ca or by phone at 1-877-339-8499.
"The ticket and schedule announcement is the next big step along the way to hosting this world-class event in our community," said Fort St. John Mayor Lori Ackerman. "Getting this information out there to hockey fans helps us plan our work schedules around game times and will allow us to enjoy the best part – cheering on our teams."
Prior to puck-drop on Nov. 5, fans will get an early look at the competition and future stars of the game as both communities will host two exhibition games each on Nov. 2.
Since the first World Under-17 Hockey Challenge (then known as the Quebec Esso Cup) in 1986, more than 1,600 NHL draft picks have played in the tournament, including 13 of the last 16 first-overall selections (Ilya Kovalchuk, 2001; Rick Nash, 2002; Marc-André Fleury, 2003; Alexander Ovechkin, 2004; Erik Johnson, 2006; Patrick Kane, 2007; John Tavares, 2009; Taylor Hall, 2010; Ryan Nugent-Hopkins, 2011; Nathan MacKinnon, 2013; Aaron Ekblad, 2014; Connor McDavid, 2015; Auston Matthews, 2016).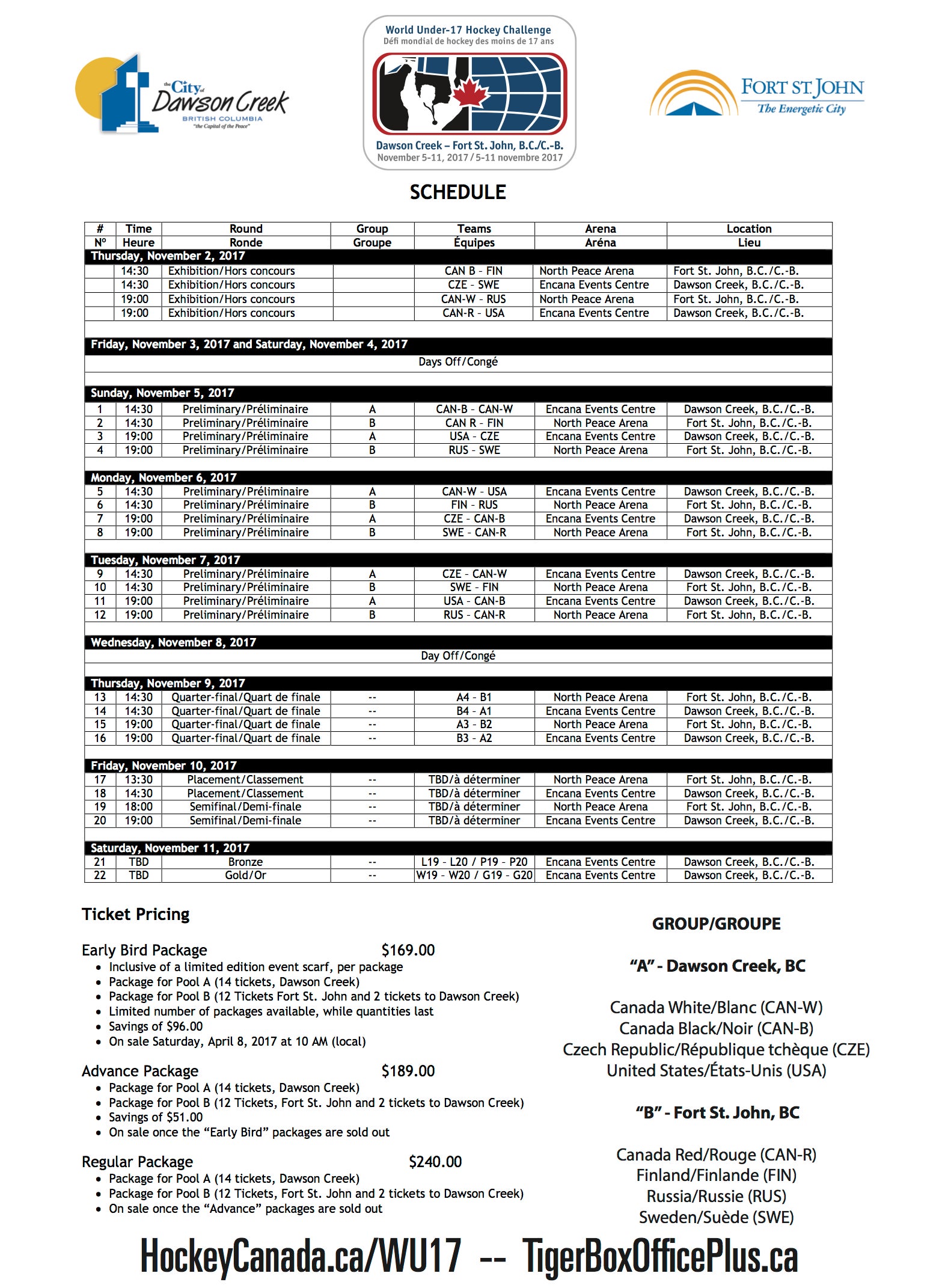 For more information on the 2017 World Under-17 Hockey Challenge, visit www.hockeycanada.ca/wu17 or follow along via social media at www.facebook.com/worldu17 or www.twitter.com/hc_wu17
Follow more Encana Events Centre updates via social media at www.facebook.com/encanaeventscentre, www.twitter.com/EventsCentreDC and www.instagram.com/EventsCentreDC
SHOWINGS
SUNDAY, NOVEMBER 5, 2017

TBA

MONDAY, NOVEMBER 6, 2017

TBA

TUESDAY, NOVEMBER 7, 2017

TBA

THURSDAY, NOVEMBER 9, 2017

TBA

FRIDAY, NOVEMBER 10, 2017

TBA

SATURDAY, NOVEMBER 11, 2017

TBA